World Class Design
Welcome to Proactive Videoconferencing Solutions!
With years of video conferencing as our core business, the technical support and expertise we provide is unrivalled and we are proud of the results it continues to produce. Our clients demand the best and they get nothing less.
Whether you need an entry level product for your small meeting room or a state of the art executive boardroom, we have a solution for everyone.
As an authorised, certified Partner we bring the world's leading brands of video conferencing and voice technologies to you.
Work From Anywhere
Work is not a place you go, its something you do and our products allow you to be your best wherever you are.
Whether you are working from home or the office we have everything you need to be productive. Our experience gives clients flexibility to find a solution that suits their requirements without compromising call quality.
We have webcams, headsets, speakerphones, conference phones and video conference equipment for all environments.
Poly Certified Advisor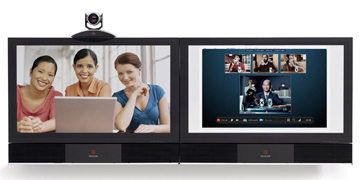 With a fully Certified Poly Engineer and Poly Gold Solution Advisor overseeing all our projects, your video conference investment is secure with us.
Our High Definition (HD) video conferencing projects have been verified amongst our peers in the industry to be, "highly skilled engineering solutions professionally matched to the client's needs". Having successfully installed the first Poly HD studios in Cape Town we can draw on this experience to provide valuable input into your HD project.
Please feel free to contact us to discuss your video conferencing requirements.